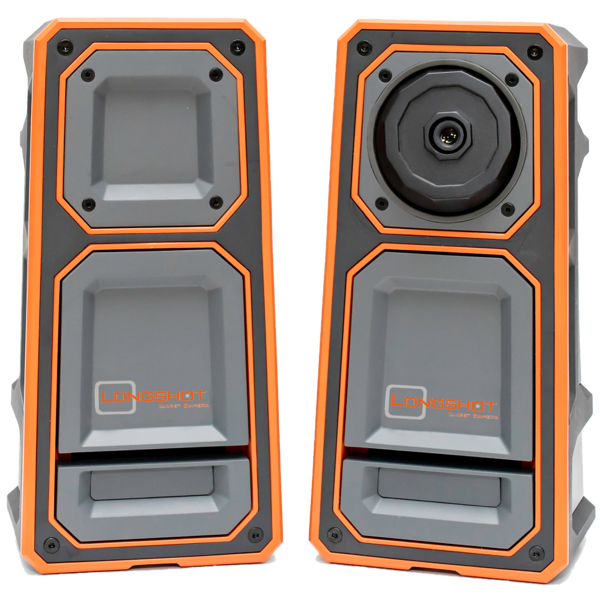 Straight Shooter 2-Mile Guarantee
CrispEdge 2688 x 1512 HD Imagery
All-Axis Camera Adjustment
OverObstacle Design
Blinker Shot Locator
Patented "Go the Distance" Link Technology
Includes: Camera, Receiver, Hard Target Camera Case, 2 Tripods, Charger
LONGSHOT's wireless, portable, and battery-powered target camera systems set up adjacent to your target and 10-15 ft. back; the long-distance wireless camera can be moved within that range to adjust the field of view. Since the long-range wireless camera is positioned downrange by the target, you'll never have to worry about fighting mirage to see your shots again. With a runtime of 9+ hours, LONGSHOT LR-3 cameras allow you to view the target remotely on your tablet or phone via an easy-to-use free
TargetVision app
(track and number shots, save photos, review sessions, record video and stills). No cell or WiFi service is required. You'll have live HD video at your fingertips, making it easy to see where your shots are hitting. Seeing your shot has never been easier.
STANDARD 2-YR MANUFACTURER WARRANTY
Each LONGSHOT camera system and accessory is manufactured with the strictest production standards and goes through vigorous quality control procedures before it is shipped out. To give LONGSHOT owners an assurance for their investments, all LONGSHOT target cameras and accessories are shipped with a standard 2-year manufacturer's warranty against defects in materials or workmanship. Additional protection is available through our Bulletproof Warranty program. Please review the warranty terms and conditions for more details.
Article number TV-CF103-W