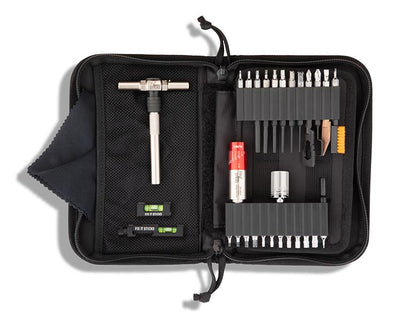 This kit contains a comprehensive assortment of tools designed to help maintain your rifle and tighten down your optics, action and accessories to the correct torque.  Includes the following specialty parts / bits:
Ratchet T-Handle w/Locking Hex Drive
All-In-One Torque Driver
1/2" Socket/Adapter
Mini Pry Bar
Pin Punch set (1/16, 3/32, 1/8, 5/32, 3/16, 1/4)
Bronze Scraper
Steel Pick
Cleaning Brush Bit
Set of two 8-32 adapters
Machined Aluminum Bubble Level Set, includes: magnetic level & rail clamp level/anti-cant device with precise UK-sourced bubble vials
Stainless Steel Rod Set (6) with .223/6.5/.30 Brass Adapters & Ball Bearing Drive (locks into T-handle, assembles to 44")
3/16" Extended Action Bit
5/32" Extended Action Bit
24 Chrome Plated Bits: T8, T10, T15, T20, T25, T27, T30, P1, P2, [hex 0.50, 5/64, 3/32, 1/8, 7/64, 9/64, 5/32, 3/16, 1/4, 2.5mm, 3mm, 4mm, 5mm] [slotted 3/16, 3/32]
Magnetic Velcro Patch
Micro Fiber Lens Cloth
Torque Value Reference/Conversion Card
Soft Carrying Case
Soft carrying case has molded low profile bit holders that are designed to hold any bit / accessory with a standard 1/4" Base.
Be prepared at the Range or in the Field. 
Article number FIX-FIS-PRKTL