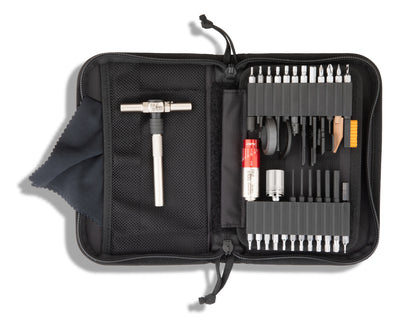 This kit contains a comprehensive assortment of tools designed to help maintain your rifles, pistols and shotguns and tighten down your optics, and accessories to the correct torque.  Includes the following specialty parts / bits:
Ratchet T-Handle w/Locking Hex Drive
All-In-One Torque Driver
1/2" Socket/Adapter
Mini Pry Bar
Pin Punch set (1/16, 3/32, 1/8, 5/32, 3/16, 1/4)
Bronze Scraper
Steel Pick
Cleaning Brush Bit
.223 Bolt Carrier Group Scraper
.308 Bolt Carrier Group Scraper
Castle Nut Wrench
A2 Sight Adjuster
Aimpoint Bit
Glock Sight Tool
1911 Bushing Wrench
Universal Shotgun Choke Wrench
Set of two 8-32 adapters
Stainless Steel Rod Set (6) with .223/.30 Brass Adapters & Ball Bearing Drive (locks into T-handle, assembles to 44")
24 Chrome Plated Bits: T8, T10, T15, T20, T25, T27, T30, P1, P2, [hex 0.50, 5/64, 3/32, 1/8, 7/64, 9/64, 5/32, 3/16, 1/4, 2.5mm, 3mm, 4mm, 5mm] [slotted 3/16, 3/32]
Magnetic Velcro Patch
Micro Fiber Lens Cloth
Torque Value Reference/Conversion Card
Soft Carrying Case
Soft carrying case has molded low profile bit holders that are designed to hold any bit / accessory with a standard 1/4" Base.
Be prepared at the Range or in the Field. 
Article number FIX-FIS-3GAIO