The Adversus series, compatible with any 1913 specification rail, is optimized to be
used on sniper rifles platforms from military forces, law enforcement
and shooting sports. The Scope Link interfaces, situated all over the mount, make it
acts as a modular system configurable by attaching multiple optical accessories.
Each mount is CNC machined from a single piece of 7075 aluminium, this allows
us to keep tolerances which guarantee the best possible return to zero. Their design
ensure required pressure and stability of the system in all conditions to prevent any
shift of the scope, without provoke its deformation or damage.
Extremely solid and durable mounts
Scope Link interface for attaching optical accessories
Designed to maximize zero repeatability
Compatible with any 1913 specification rails
Manufactured from 7075 aluminium
Finished with Type 3 Hard Coat anodizing
Canting level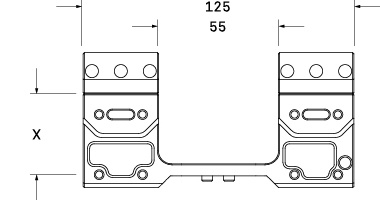 All 34 mm inclination mounts have a high scope mount (x=38 mm)
Article number AU-AD0015